Ben McKenzie Got Conned by Crypto Fraudsters and Writes a Book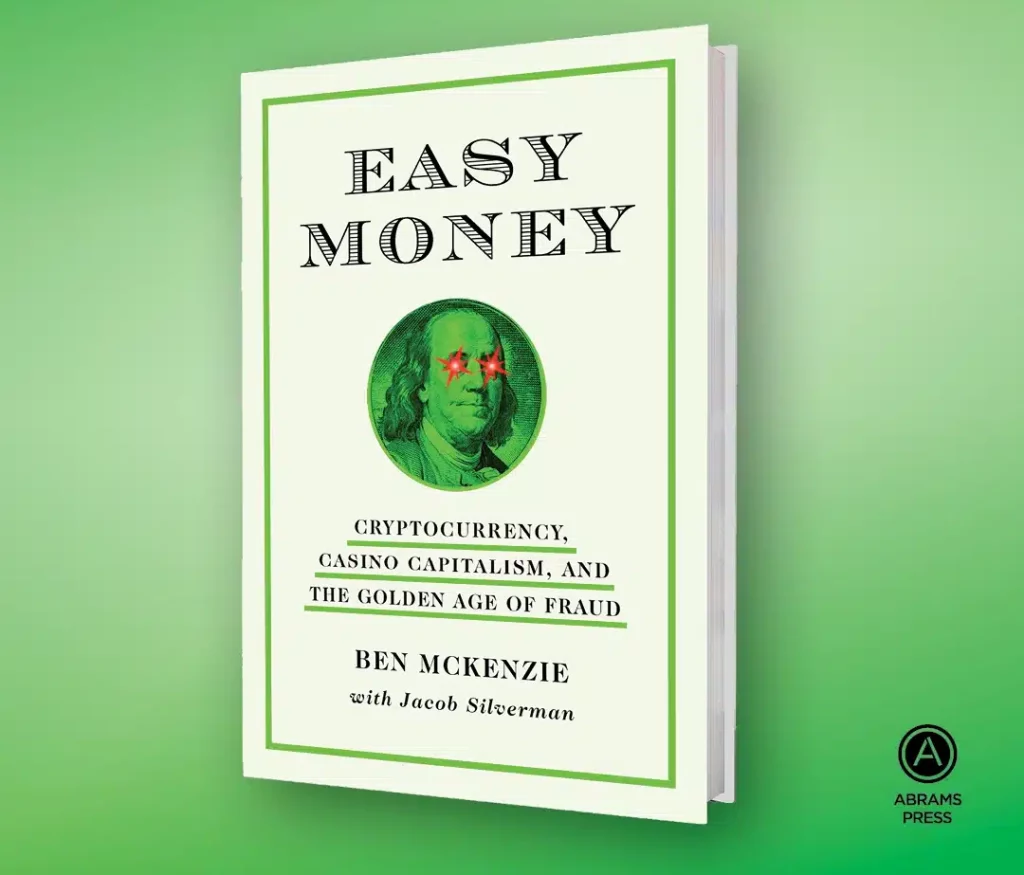 "Easy Money" is your go-to guide if you're navigating the chaotic world of cryptocurrency. This insightful narrative by actor Ben McKenzie and journalist Jacob Silverman offers a humorous yet incisive journey into his personal mission to unmask the fraudsters in the crypto world. His exploration reveals a fascinating universe filled with scams, devout followers, and opportunists that will leave a lasting impression.
Ben McKenzie, a familiar face on television for over twenty years, first won over viewers with his role in the cultural sensation, The O.C. He later took center stage in Fox's popular series Gotham, where he not only acted but also directed and wrote episodes. In 2020, he featured in Grand Horizons, a play that earned a Tony Award nomination for Best New Play. McKenzie is a University of Virginia alumnus, where he studied economics and foreign affairs.
Jacob Silverman, a New York-based journalist, covers topics ranging from technology and cryptocurrency to politics. He penned "Terms of Service: Social Media and the Price of Constant Connection." His work has been featured in prominent publications such as the New York Times, Los Angeles Times, The New Republic, the Washington Post, and many others.
The book is out now via Abrams Press.
Ben McKenzie : "Celsius was a bit too hot to be true"
In the book Ben McKenzie shares his experience of being duped by Alex Mashinsky, the founder of Celsius, a cryptocurrency platform. McKenzie was initially drawn to the promise of high returns and the opportunity to be part of a financial revolution. He was impressed by Mashinsky's credentials, which included being a pioneer in Voice over Internet Protocol (VoIP) technology and a successful entrepreneur.
However, McKenzie's enthusiasm soon turned into disillusionment as he began to notice red flags. He was concerned about the lack of transparency in Celsius's operations and the high interest rates promised to investors. He also found Mashinsky's claims about Celsius's insurance policy to be dubious.
The turning point came when McKenzie discovered that Celsius was under investigation by the U.S. Securities and Exchange Commission (SEC) for potential securities law violations. This revelation, coupled with Mashinsky's evasive responses to his queries, led McKenzie to conclude that he had been conned.
CIA and FBI tales
He also says he's been contacted by the CIA about his work on crypto fraud, though he declines to go into detail. "I can't really talk about that," he says. "But I will say that the level of interest from the government in what we're doing is very high."
In the article, there's also a section that discusses the involvement of the Central Intelligence Agency (CIA). The CIA is mentioned in the context of a claim made by Alex Mashinsky, the CEO of Celsius Network. Mashinsky alleges that he was approached by the CIA to create a "backdoor" into his company's systems. This would essentially allow the agency to access data and monitor transactions. However, Mashinsky refused this request, emphasizing his commitment to user privacy and security. This part of the article highlights the potential interest of intelligence agencies in cryptocurrency networks due to their increasing popularity and use in financial transactions.
The FBI is also part of the article when McKenzie talks about an investigation into a cryptocurrency scam. The scam involved AriseBank CEO Jared Rice, who was arrested by the FBI. He had claimed that his company was the world's first decentralized bank and had raised $4.2 million in a cryptocurrency offering. However, it was discovered that the claims were false, and the money raised was used for personal expenses. The FBI's involvement underscores the seriousness of the case and the potential legal consequences for fraudulent activities in the cryptocurrency sector.
Despite his unfortunate experience, McKenzie remains optimistic about the potential of blockchain technology. He cautions others to be wary of too-good-to-be-true investment opportunities and emphasizes the importance of due diligence.